This new airline will offer affordable luxury flights between Dubai and Maldives
Beond promises premium economy prices for a business class experience…
Looking to start your dream getaway from the second you board the flight? Then get ready to fly Beond, a luxe new airline promising affordable luxury in the premium leisure travel space, launching flights between Maldives and Dubai from next summer.
Beond offers all business-class seats, replicating the private jet experience through best-in-class amenities, a stellar culinary offering, and attentive service to make your holiday start from the moment that you board. Best of all, despite the luxurious business class offering, the airline promises 'premium economy pricing,' promising fares from EUR1,500 (Dhs6,000).
The airline has launched with a trio of routes from Maldives to Riyadh, Zurich and Munich, which you can book now. But from next summer, they'll also be adding Dubai and Milan, meaning your next long weekend escape just got a little more luxury.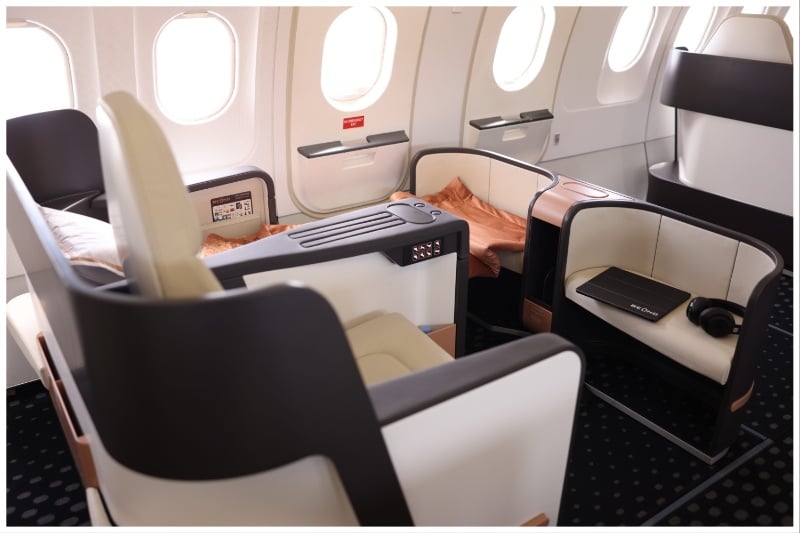 The in-flight experience is all about giving guests a luxurious and exclusive experience, so there's just 44 seats onboard, configured in a 2 x 2 layout. Optimares designed leather seats in smart, soothing cream are generously sized and spaciously arranged, and when you walk onboard they're neatly laid out with Beond branded amenities in signature orange and slate grey. Comfy slippers make you feel right at home, there's a pillow and blanket for getting some R&R in-flight on your lie-flat seat that doubles up as a bed, and a leather amenity kit is stocked with a toothbrush, sanitiser and even pillow mist, to make sure you're feeling refreshed again as you prepare to touch down.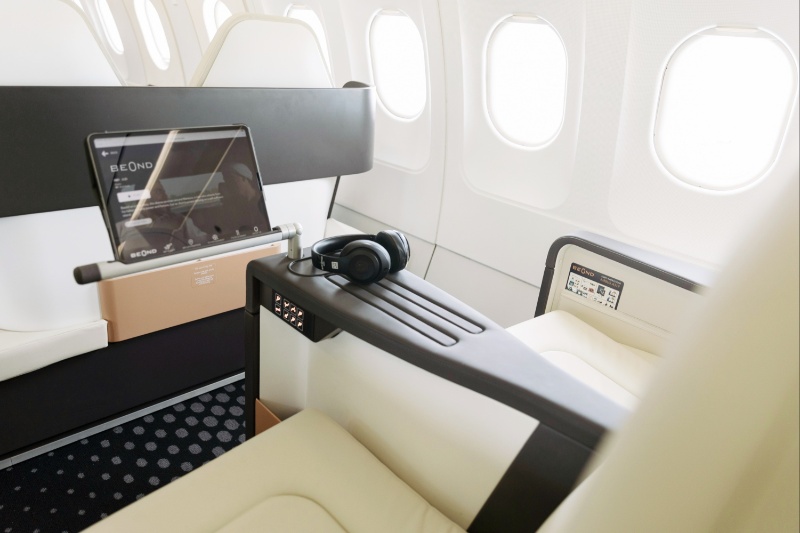 There's a focus on high-spec tech too. Each passenger is given Beats headphones (noise cancelling, we may add), and can set up an iPad infront of them to stream a selection of blockbuster movies, comedic series' or listen to a podcast. Prefer to watch on your phone? Simply link the headphones up to your phone and stream away.
The service is of the high-standard you'd expect in business class. Guests are offered refreshing towels and fresh juices on arrival. Throughout the flight staff pass by offering to put down a matress for those getting some sleep in, or offer water and juices.
An a la carte menu goes far beyond the traditional culinary offering on a flight, with guests able to order from a menu that includes dishes like wagyu beef and Maldivian lobster. It's all served swiftly on delicate chinaware that makes you feel as much like you're in a fine dining restaurant as you are onboard a flight.
And once you touch down in your final destination, it feels as though paradise began before the wheels even touched the runway.
> Sign up for FREE to get exclusive updates that you are interested in