8 things to do in Abu Dhabi this weekend: June 9 to 11
And what a wicked little weekend it could be…
On more than one occasion, when I was younger, if something that I dearly wanted (a new bike, a newspaper round, or passing a test) slipped through my fingers, my dear grandmother would say to me "what's for you, will not pass you by". But in a more Scottish accent. Essentially: there's a plan for you, so if you didn't get it – it wasn't meant to be. And whilst I recognise that these are indeed wise words, they should come with appendix. You can't be passive about your dreams, you have to get up and chase them, because whilst if it's not meant to be – you may fall, there's always the chance you might fly.
Friday, June 9
A whole load of fun in one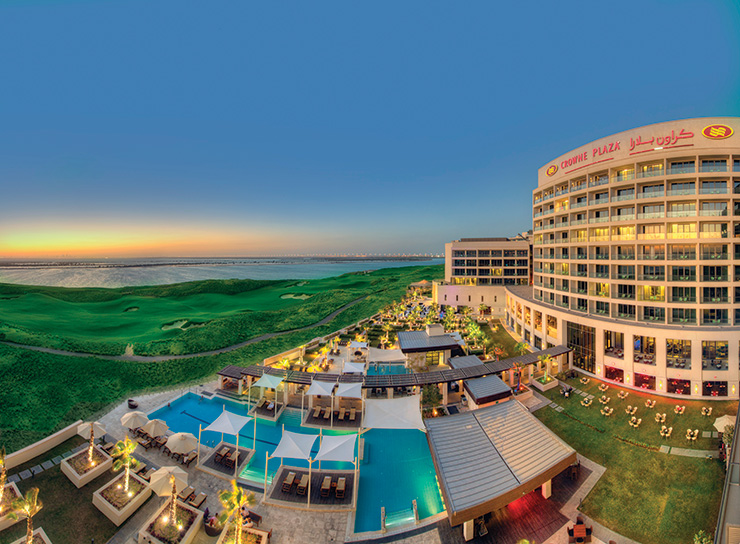 Fancy a luxury overnight stay for two in the UAE with access to two of the country's finest golf courses? Look no further! Golf Digest Middle East's Play & Stay competition is back — and this time we are heading to Yas Island in Abu Dhabi to offer one of the finest golfing experiences the capital has to offer. For just AED 1,295, you and a friend (twin share or double) can enjoy a two-day staycation on Yas Island with one playing spot in each round at Yas Links Abu Dhabi and Yas Acres Golf & Country Club, either side of a luxury pampering at Crowne Plaza Abu Dhabi – Yas Island on June 9 and 10. Non-golfers can chill at Crowne Plaza's Cyan Beach or pool and enjoy discounted offers at the Crowne Fitness spa and sauna. You can find out more here, or proceed directly to booking here.
Tea Total
View this post on Instagram
Café 302 at Al Maha Arjaan by Rotana has got a lush little collection of summer specials which offer combo deals on their famously nutritious and delicious menu items, alongside alcohol free wines and beer. Take their afternoon tea for example (vegan option inclusive) which rounds up finger sandwiches, cakes and tea for Dhs85 and offers a whole bottle of zero alcohol sparkling for an additional Dhs75.
Café 302, Al Maha Arjaan by Rotana, Saeed Bin Ahmed Al Otaiba Street 302, (0)2 610 6688, @almaha.arjaan
Lockdown
Taking inspiration from iconic TV shows, The Crystal Maze and Fort Boyard, Prison Island – Beat the Bars is a new adventure experience now open at Abu Dhabi Mall. Set over a 1,000m² expanse, this is no escape room — it's a network of 26 individual 'cells' featuring tasks each more fiendishly conundrous (shhh, that's a word) than the last, and you'll have to beat them all if you want to escape the island, with winner's bragging rights.
Abu Dhabi Mall, Dhs125, @prisonisland.abudhabi.
Saturday, June 10
Snow business
With temperatures in the UAE now tickling the 50 degree mark, we bring very welcome news. Finally they're opening up the gates, and for the first time of forever – Snow Abu Dhabi is now open in Reem Mall. It may not have the slopes of Ski Dubai – so there's no skiing or snowboarding, because the focus here, the real 'piste de resistance' is on a more inclusive form of fun. Regulated to a super chilly 2ºC, the 9,732 sqm space offers more than 20 rides and attractions, as well as three F&B outlets (including a cafe stand where you can pick up squirty cream topped hot choccies).
Reem Mall, Sun to Thu 10am to 10pm, Fri to Sat 10am to midnight, from Dhs215. @snowauh
Going all in
Rixos Premium Saadiyat Island in Abu Dhabi is stunning, and the premium all-inclusive package at this UAE hotel ensures literally everything is included. As well as all-inclusive food and drink, guests can also take advantage of daily yoga, cycling, paddle boarding and complimentary access to the tennis courts. Think light airy bedrooms, opulent interiors and a lagoon-sized swimming pool that all open up onto a private stretch of Saadiyat Island's enviable white beachfront. For most dates, a minimum two-night stay is required, with nightly rates from Dhs1,850.
Rixos Premium Saadiyat Island, Saadiyat Island, Abu Dhabi, from Dhs1,850. saadiyatisland.rixos.com
Project X
The Galleria Al Maryah Island location of Xtreme Zone offers an orchestra of recreational adventure. There's the synapse-jangling thrills of electronic entertainment; all the button-mashing fun of the video games arcade; and intense virtual reality (VR) experiences. Prefer your activities a little more analog? You can pick up sticky splits at their 12-lane bowling alley, double-bounce your bestie at the trampoline park, beat the peak on the climbing wall, or take on the Tag Arena's timed obstacle course for leaderboard bragging rights.
The Galleria Al Maryah Island, Abu Dhabi, Saturday to Wednesday 10am to 10pm, Thursday to Friday 10am to midnight. Tel: (02) 493 7400, thegalleria.ae
Sunday, June 11
Grill squad
Did you know that Punjab Grill's weekend brunch is now available on Friday (6.30pm onwards), Saturday (midday to 4pm) and Sunday (midday to 4pm)? What you do with that information is of course up to you but we can't help but think testing it out might be a good idea. The house option is just Dhs195 and the fragrant flourish of South Asian food includes avocado papdi chaat, chicken tikka chaat, pani puri, fish tikka, green masala shrimps, dal makhani, biryani rice, and dessert options in the key of mango cheesecake and indulge in a mouthful of paan ki rasmalai.
The Ritz-Carlton Grand Canal, Venetian Village, Khor Al Maqta'a, Tel: (0)2 449 9839. @punjabgrillabudhabi
Get your skates on
There's a full kitbag of indoor sporting entertainment available at Zayed Spot City, but one of our favourite active highlights is getting on the ice skating rink — a exceptional way to cool down from just Dhs55 — and there are even lessons available if, like us, you're still a bit Bambi on stilts. You can also go on strike with Cosmic Bowling (7pm every Wednesday) at the compound's Khalifa International Bowling Centre. Because in space, nobody can hear you gutter ball.
Zayed Sports City, Dhs20 per individual per game or Dhs140 per lane per hour. Tel: (02) 403 4200, zsc.ae
Images: Provided
> Sign up for FREE to get exclusive updates that you are interested in